Fantastic Beasts and Where to Find Them: The Original Screenplay – J.K. Rowling
*Warning – may contain spoilers*
Author: J.K. Rowling
Publisher: Little, Brown
First published: 2016
Edition: Beautiful hardback, and when you take the dust cover off there's a cute little niffler on the front!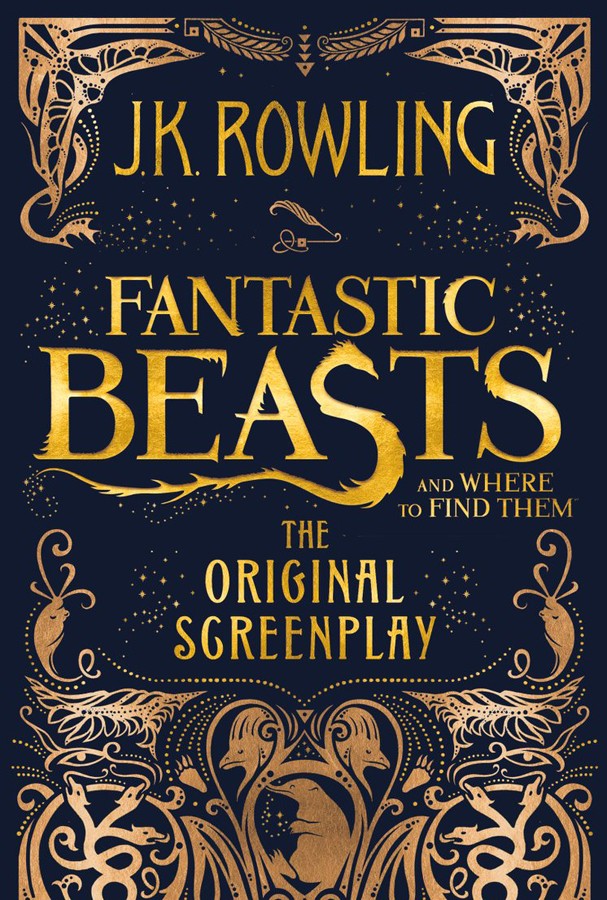 Pages: 293
Blurb: J.K. Rowling invites you to explore a new era of the Wizarding World…
Explorer and Magizoologist Newt Scamander has just completed a round-the-globe trip in search of the most rare and unusual magical creatures. Arriving in New York, he intends his stay to be just a brief stopover. However, when Newt's case is misplaced and some of his fantastic beasts escape into the city, it spells trouble for everyone…
History of my copy: I picked this up on release day at Waterstones, having previously pre-ordered it. It came with a little bag of goodies, including some Fantastic Beasts bookmarks, a mini poster and a cute little 'accio' badge.
As I'm sure you're well aware, this is the screenplay to the fantastic (no pun intended) film of the same name, which was adapted from the Hogwarts book by Newt Scamander. I had the once-in-a-lifetime opportunity to see the film 3 days early in 3D at my local cinema as one of the premieres. And it was amazing. The story was fantastic, the acting (especially Redmayne's flawless performance of the flawed (/perfect to me) Newt) and it was everything I wanted from a return to the magical world.
I then got the book on release day and read that, using the non-fiction book of Scamander's as a little reference guide to some of the creatures encountered. Rowling has since announced a re-release of Scamander's book which will include the new creatures from the film that aren't featured in the original and I look forward to reading it.
Setting: Fantastic Beasts and Where to Find Them takes us across the pond to New York where we encounter the same wizarding world seen in Harry Potter, with a large number of pivotal differences. America is a world in which witches and no-maj (muggles) are completely segregated. Alongside this, there is a clear fear of magic which underlies the whole story.
As a screenplay, the book itself is, of course, lacking in description of the setting beyond basic scene setting but when accompanied with the film, the whole thing is breathtakingly beautiful. 1920s America definitely had a stunning feel.
We also begin to discover a little about Ilvermorny, America's wizarding school, through a great little scene in which the Goldstein's and Newt argue over which is best, leaving Jacob both awed and a little confused.
But perhaps the most magical setting of all is the inside of Newt's suitcase, which is home to a vast variety of habitats in which all his creatures can comfortably live and I think it's clear that Newt too regards his suitcase world as home, as he appears only ever entirely at ease when surrounded by animals.


Plot: We follow Newt as he arrives in America with a suitcase full of his 'fantastic beasts' which just so happen to get accidently set free by our lovable no-maj Jacob. Tangled up with the Goldstein sisters, the majority of the story focuses on Newt rescuing his creatures from the Erumpent to the cute Niffler and the invisible Demiguise, leading to some hilarious moments.
Underlying this, we have the threat of Grindelwald looming over the magical world, which our favourite four unintentionally get involved in, setting the scene for the next two planned films. Whilst the plot twist regarding Grindelwald was rather predictable, it was executed wonderfully both in the script and on-screen.


Characters: Fantastic Beasts has a whole world of characters that are all so unique yet so interesting. From the magical Newt to Jacob the no-maj, the mysterious Graves to the vulnerable Credence and, of course, everyone's favourite sisters Tina and Queenie who are both so similar yet so strikingly different, there is definitely a character for everyone. We even have a mention of the infamous Albus Dumbledore, whom Newt knows from his Hogwarts days.
Newt himself is an adorable character and definitely an all-time favourite and no, not just because he's a Hufflepuff. He's shy, but intelligent and his true character comes out when surrounded by his precious animals. Honestly, he's so relatable. Plus you can see him open up to Tina and it's such a beautiful budding romance!
That leads me on to the Goldstein sisters who I just can't wait to find out more about! What's the real story behind their parents? How come Queenie can read minds? How do they meet Newt again? What about Queenie and Jacob – that has to happen!
A character I haven't mentioned yet is Credence who is the focal point of the story. How did he get tangled up with Graves in the first place? Why is his magic secret and oppressed? DID HE SURVIVE?


To read or not to read: Go read immediately. This is another Rowling masterpiece that everyone needs in their life. Whilst I recommend watching the film first, honestly the screenplay just adds to it all and Rowling has created such a fantastically woven plot as per usual.
I think the fact that this review is all over the place just emphasises how much I loved Fantastic Beasts. As I was writing it, all these small details came flooding back that helped link the whole story together and honestly, I'm really struggling to get my adoration for Fantastic Beasts and Newt Scamander down on paper. Just go read it right now and you'll understand what I'm on about.